---
Notice:
Please locate the menu at the top right (triple bar) on mobile devices or on the right on PC!

In this online shop you can order my Violin Method in 6 Stages, which has been available since 2012.
The method starts with the Early Start Book (1st Level – Book 1, co-written with Iris Schmid) and ends with Level 6 – Book 6, which contains masterpieces from the violin repertoire.
Children from the age of 6 or adult beginners can skip Book 1 and start directly with Book 2.
This method includes theory and rhythm training as well as violin technique, studies and many pieces to perform.
There are 4 accompaniment books with play-along CDs, so that teachers and parents can play and practise with the pupils.
The accompaniments are available for violin as well as for piano. The experienced pianist and accompanist Iris Schmid has written piano parts which are managable by people who are not professional pianists.
We hope you are interested in this very complete and practical method which contains over 1600 pages.
You can follow me on Instagram and watch regular short tutorials there.
Please feel free to write to me if you have any questions or suggestions.
All the books are available in German and English.
The method is however designed in such a way that one can understand most things directly from the music examples – there is little need for language skills.
Inhalte von Powr.io werden aufgrund deiner aktuellen Cookie-Einstellungen nicht angezeigt. Klicke auf die
Cookie-Richtlinie
(Funktionell und Marketing), um den Cookie-Richtlinien von Powr.io zuzustimmen und den Inhalt anzusehen. Mehr dazu erfährst du in der
Powr.io-Datenschutzerklärung
.
Professor Ingolf Turban of the Hochschule für Musik und Theater (Academy of Music and Theatre) in Munich, Germany wrote about Florian Meierott's activities as a publisher and composer, in reference to his newest composition.
"Florian Meierott's highly professional and yet affectionate, empathetic dealings with the young violinists of our time is once again best represented by his compositions intended for adolescents and children.
Florian Meierott has perfected a content rich musical education, in the spirit of the era of Accolay, Beriot, Seitz und Rieding. At long last, another fantasy filled contribution in support of children's education of music starting at an early age."
This violin instruction manual is designed so that the student, to a great extent, understands the principles through the notation, and therefore, knowledge of a foreign language is not really necessary.
---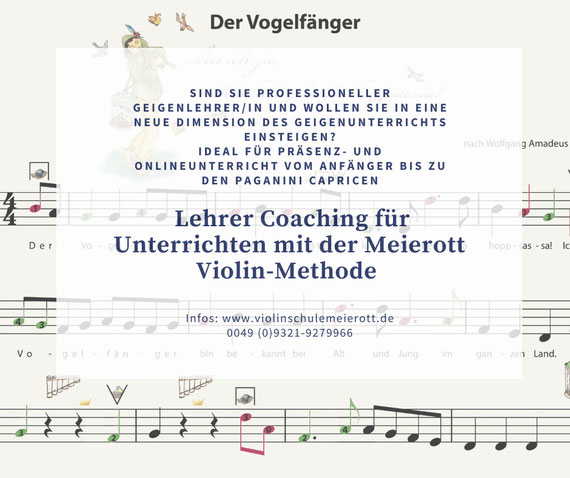 This is the ideal method for teaching the violin one on one, in group lessons or online. This method covers the material for the raw beginner up to the Paganini Caprices. A beginner's book is also available for older children and adults as well.
I had planned a seminar in the "Villa Paganini" for 2021. In its stead, I am offering coaching online with Skype or Zoom if you do not wish to, or are unable to, travel to my location. Part of the curriculum includes practical tips for teaching, whether it be online or live. This includes instruction from my book in a quickly learnable concept of rhythm.
Feel free to contact me about any questions you may have. With any order of a minimum of eight books, the aforementioned teacher coaching is gratis. The coaching is also available online as a one on one. 30 Euros for 30 minutes, 60 Euros for 60 minutes.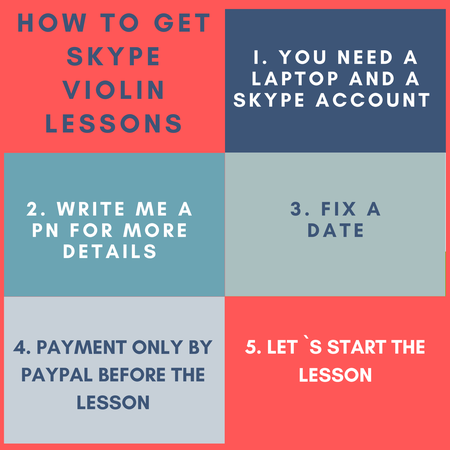 TIME FLEXIBLE REGARDLESS OF LOCATION
Lessons via Skype are available immediately. Please contact me per telephone to arrange an appointment.
Prerequisites: A violin and a bow, a computer or a laptop or a Skype enabled device, a stable internet connection, a microphone, a webcam, and speakers as well as the current version of the Skype program.
Those who can benefit the most by learning with Skype.
For everyone who wishes to have lessons in my methods regardless of location
For experienced players who wish to expand their knowledge or those picking the instrument up again after a hiatus
For those who are seeking specific answers to specific questions
For those who are seeking flexibility in the scheduling of their lessons.
How do we do music lessons via Skype?
Basically, it is just like lessons in a music school. An appointment has been agreed upon for one lesson or a series of lessons and you and I meet, virtually, for your lesson. Before logging in, be sure that everything is set up and ready to go so we can start on time and that you receive the most of your lesson.
Costs for the online one on one lessons:
30 minute lesson = 30 Euros // 60 minute lesson = 60 Euros
If you have any further questions, please do not hesitate to contact me at +49 9321 – 9279966 or write me at mail@meierott.de